There are many reasons to celebrate National Farmers Market Week August 5 – 11, 2018. For one, doing so helps make it possible for you to eat the highest quality food at what is often the lowest possible price. This is because the community farmers market eliminates the middleman, giving the farmer the profit he needs and you a bountiful variety of fresh, nutritious, in-season produce at fantastic savings.
Another reason to visit is the opportunity to practice being human by gathering with your neighbors, face to face, eyes meeting eyes, hands touching hands, gossiping, laughing, complaining, and bargaining, much as people have always done. It is an experience in being human.
The Local Farmers Market in America: A Brief History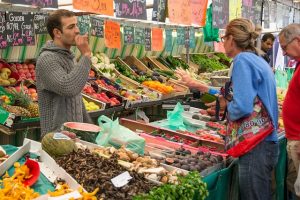 As long as people have lived in mutually beneficial societies there have been community marketplaces where area residents gathered to sell or trade. First, it was probably extra animals and crops, but as the marketplace developed, eventually other handicrafts and such excesses as resulted from knowledgeable agricultural practices, good husbandry, favorable weather, and luck, were sold.
For example, in the 19th century, in addition to meats, cheeses, vegetables, fruits, and baked goods, at a well-stocked marketplace one might expect to find livestock, poultry, and many of their assorted byproducts: candles, wool, milk, eggs, tallow, and feathers, to name a few. Smaller markets met on predetermined dates throughout the year, and some larger markets were so constant that they grew into areas of commerce.
The number of farmers markets in America declined for much of the 20th century, a decline that was inversely related to the standardization of electricity and home refrigeration, and which paralleled the small farmers exodus from the land to the city and its factories. At the same time, the rise of the refrigerated trucking industry opened up new markets.
The result was franchised grocery stores, a less personal "community," and TV dinners to seed our coming addiction to convenience. The time was right: women were going to work in increasing numbers and when they got home, they were tired. Convenience was hip.
However, what first seemed to be forward progress showed a less-savory side as investors saw virtually unlimited profit potential. By the dawn of the 21st century, we were dealing with entrenched marketing monsters. Perception became something to be shaped and manipulated, considered more primary than either honesty.
This explains how we ended up with the ever shrinking "half-gallon" of ice-cream. It also explains how a brand you've always loved can suddenly stop being as good as you remembered. Although the product's name didn't change, its ingredients likely did, perhaps due to a change in corporate ownership, policy, or philosophy. Or, then again, it could simply be because in greed-driven corporate culture, no amount of profit is ever enough.
Farmers Markets: A Season for Everything
The pendulum swings, however. Something that farmers everywhere instinctively understand, is that everything has its season. Today, the pendulum appears to have swing back towards the community farmers market as people see that the industrialized food complex isn't necessarily what it seems.
The number of reported community farmers markets rose from 2,410 in 1994, to 8,675 in 2016. Some of the reasons cited for this increase include people's desire to know the provenance of the food they eat, desire to lessen their carbon footprint (trucked food has higher petroleum costs), and the desire to avoid unknowingly eating pesticides via genetically modified foods.
Practical Reasons to Shop your Local Farmers Market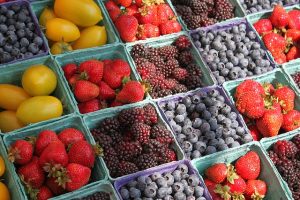 Practical, as well as well as ideological reasons abound for shopping your local farmers market. The typical marketplace offers a wide variety of fresh fruits and vegetables including heritage varieties that may be hard to find elsewhere:
You can expect the farmers who have gathered there to understand and share your concerns about the way they grow your food.
Prices tend to be affordable and the supply plentiful.
Someone truly familiar with the produce they're selling can talk to you about their pesticide use, or lack thereof.
Certified organic growers will display their labels, and even those who don't follow strict practices are happy to talk to you about why they make the choices they do.
Taking those few moments to exchange pleasantries with someone who also happens to be your neighbor, the person who oversaw the planting of your corn or the harvest of your peaches or even your Thanksgiving turkey is often a rewarding experience.
Each Community Farmers Market is Unique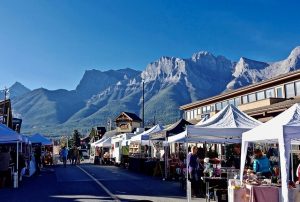 Some local markets are seasonal, and others, year round. Some sell additional farm products such as grass-fed meat and poultry, cheeses, honey, wool, and more. People who come to vegetable stands and farm and community markets tend to be of like mind and to come prepared to enjoy the festive atmosphere, which varies from day to day and market to market depending upon what food trucks, busking musicians, breweries, bakeries, restaurants, and other such establishments are nearby.
Friends and mentorships form easily in this environment. Community marketplaces tend to evolve to suit the communities they serve, which is a large part of what makes each one unique.
Today, many care passionately about the planet we share and desire to live as sustainably and ethically as possible. They have discovered that one way for them to express their viewpoint is by supporting the local farmers that share their perspective. The availability of the regional farmers market lets a small-scale farmer compete with his vastly larger corporate counterparts, and supports him in making considerate, thoughtful choices for both the consumer and the environment.
As more people assert the full power of their purchasing choices, things that they and the community marketplace both support, such as stewardship of the earth, sustainable farming practices, natural, non-GMO food production, open-source seeds, and the preservation of heritage species, are beginning to become a reality. Together, they afford the consumer the privilege of contributing to the livelihood of countless small farmers as well as participating in the preservation of America's rural lands and heritage.
Upcoming National Ice Cream Day fell on Sunday, July 15, 2018. No matter how you decide to celebrate, be sure to share the festivities with friends and family. Don't hesitate to venture outside your comfort zone with a flavor you haven't tried yet; after all, the classics will always be waiting in the wings.
This content (listed above) can be freely copied and used anywhere, by anyone, for any purpose.
This content was freshly written by us, it is not "recycled" but others may grab it and use it, so we strongly recommend that it be re-written to make it 100% unique text, in order to avoid search engine duplicate content penalties.
If you are pressed for time, or your writing skills are a bit rusty, no problem – we can rewrite it for you. Just use your Articlez.com account, place an order for "Elite" content, and in the "notes" area of your order form paste in this original article and ask us to rewrite it (or to write a fresh one on the same subject).