Americans consume more than 22 pounds of ice cream per person each year according to the latest reports from the International Dairy Foods Association. While well over 1,000 official flavors currently exist, endless varieties are certainly possible, giving the world plenty of options to choose from. National Ice Cream Day is set aside to celebrate this wildly popular sweet treat, and this year's annual observance falls on July 15 2018.
The History of Ice Cream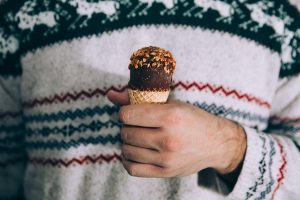 By some accounts, ice cream dates back as far as the second century B.C. During Alexander the Great's reign from 356 through 323 B.C., he often indulged in snow sweetened with nectar and honey. History indicates roughly 300 years later, Nero Claudius Caesar would send scouts into the mountains to fetch snow for refreshing fruit-flavored treats.
Emperors of China's Tang Dynasty were among the first to enjoy a form of frozen dessert more closely resembling the ice cream we know and love today. Typically made with goat or buffalo milk, flour and camphor, this delicacy was poured into metal tubes and frozen in ice pools. Eventually, sugar became more mainstream and was introduced to the mix. This may have transformed the flavor, but continual stirring during the freezing process revolutionized the texture. From there, the industry was simply destined to thrive.
Variations of what was originally called cream ice arose around the world over the centuries, including kulfi in India, gelato in Italy, fromage in France and Turkey's dondurma. They vary in taste and texture, but all can be compared to the world-famous frozen treat ultimately deemed ice cream. In spite of all this widespread development, ice cream didn't actually make its way to America until the 1700s.
Numerous notable names in American history are said to have held a fondness for ice cream. George Washington himself was reported to have spent an estimated $200 on this cool delight during his presidency. By today's standards, that figure would amount to almost $5,000. Thomas Jefferson commissioned ice houses dedicated to storing considerable amounts of ice cream while Abraham Lincoln's wife, Mary Todd, routinely served it to summertime guests.
The National Ice Cream Day Legend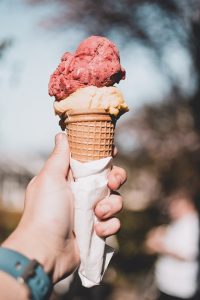 Fast forward a couple centuries, and ice cream had settled into the hearts and bellies of our nation. Though it's most popular during the warmer months, no set-in-stone rule prohibits it from being a year-round tradition. In 1984, President Ronald Reagan decided the dessert deserved official recognition. He declared July to be National Ice Cream Month and sanctioned the third Sunday of the month as National Ice Cream Day. His formal affirmation urged Americans to observe the occasion with "appropriate ceremonies and activities". Yes, sir!
Today's Frontrunning Ice Cream Flavors
With so many flavors available, picking a single favorite isn't a simple feat. Determining the nation's top picks becomes even more difficult when you account for variations in surveys from all the different brands on the market. Still, certain choices do stand out on a universal basis, including:
Cookies and Cream
Mint Chocolate Chip
Chocolate Chip Cookie Dough
Coffee
Moose Tracks
Butter Pecan
Cherry Vanilla
Strawberry Cheesecake
Peach
Pralines and Cream
Of course, the infamous classics also made the cut: chocolate, vanilla and strawberry. As you might imagine, Neapolitan with its convenient combination of the three wasn't left out of the mix, either. These are only a few striking options in a vast, creamy, frozen sea of possibilities.
Not-So-Common Ice Cream Alternatives
While plenty of ingredients seem like obvious choices for ice cream, others require a good bit of creativity. Some say ample forethought should go into deciding to test these flavors whereas others insist they're the best you'll find.
Curry Mint: With fresh mint leaves, coriander, paprika and turmeric, this variety certainly brings a unique twist to the traditional ice cream recipe.
Maple Bacon: Maple flavoring isn't exactly unheard of in the dessert world, and bacon does seem to go with just about everything these days. Add in a shot or two of bourbon, and you have what some describe as a remarkably indulgent variation.
Ube: Most notably featured at 2nd City in New York, this flavor makes use of a purple yam from the Philippines.
Cilantro Lime: Though this flavor is packed with a couple common salsa ingredients, it's far from a savory treat. Traditional corn tortilla chips may not be the best dipping options for this dessert, but deep-fried flour tortillas coated with cinnamon and sugar could certainly eliminate the need for a spoon.
Avocado: Incredibly creamy in their own right and bland enough to take on any essence, avocados could be considered a logical choice for ice cream.
Tomato: History is riddled with brief accounts of tomato-flavored desserts resembling ice cream, but Haagen-Dazs recently made it official with the introduction of a tomato-cherry variety. On last report, it was only available in Japan, though.Aside from these unusual options, a number of people are apparently looking to spice up the norm. Cinnamon, ginger and Red Hots are fairly popular mix-ins among this portion of the crowd, but cayenne, jalapeno and habanero are also gaining acclaim. Sunni Ski's Homemade Ice Cream in North Carolina offers a flavor known as Cold Sweat. This one packs so much heat, you actually have to sign a waiver before purchasing or sampling it.
Bringing Ice Cream Home to Enjoy!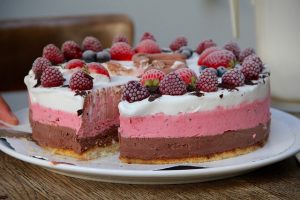 Pre-packaged ice cream is readily available at any supermarket, and dozens of chains offer hand-dipped cones, cups, bowls and buckets. Though plenty can be said for ready-made treats, few options can compare to old-fashioned homemade ice cream. Decades ago, hand-cranked churns made you work for the ultimate reward, but today's electric models offer gratification with much less effort.
Countless homemade ice cream recipes are available online as well as in near-extinct printed cookbooks from the days of old. One simple breakdown for classic vanilla calls for:
2 cups of heavy cream
2 cups of whole milk
3/4 cups of sugar
2 Tablespoons of vanilla extract
Stir these ingredients together well or run them through the blender, and transfer the mixture to the canister accompanying your ice cream churn. Pour ice and rock salt around the outside of the canister, plug in the churn, wait patiently for around 20 minutes or so and it's ready to eat. Don't hesitate to add in strawberries, peaches, bananas, chocolate syrup or any number of other ingredients to make it your own.
This Year's Ice Cream Celebration is Already Here!
Upcoming National Ice Cream Day fell on Sunday, July 15, 2018. No matter how you decide to celebrate, be sure to share the festivities with friends and family. Don't hesitate to venture outside your comfort zone with a flavor you haven't tried yet; after all, the classics will always be waiting in the wings.
This content (listed above) can be freely copied and used anywhere, by anyone, for any purpose.
This content was freshly written by us, it is not "recycled" but others may grab it and use it, so we strongly recommend that it be re-written to make it 100% unique text, in order to avoid search engine duplicate content penalties.
If you are pressed for time, or your writing skills are a bit rusty, no problem – we can rewrite it for you. Just use your Articlez.com account, place an order for "Elite" content, and in the "notes" area of your order form paste in this original article and ask us to rewrite it (or to write a fresh one on the same subject).