Time for another Articlez.com staff reviewer interview, this time with "Kim D." …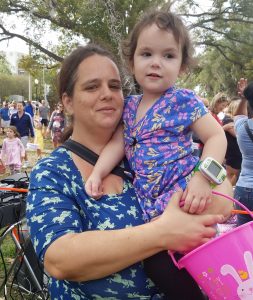 Kim, our folks like to find out more about our editors/reviewers and the work they do.
Tell us – Where were you born and where in the U.S. do you currently live?
I was born in Tampa, FL, lived in Tallahassee, FL for a while and now I live in Orlando, FL, about an hour away from the beach.
Kim, how did you come to work for us in the first place?
I was looking for a way to earn a little bit of extra money and found out about the company through work-at-home forums. I decided to give it a try since I've always loved writing and enjoyed it quite a bit.
How long have you been reviewing/editing for us?
I think almost 4 years, with a bit of a break in the middle when I had my daughter.
Describe, if you will, your duties specifically as a content reviewer/editor? What is involved?
Most of it is checking to make sure guidelines (number of keywords, the number of words in the article, etc.) are right, checking grammar, and making sure the articles are the best they can be before going to the client.
I try to make sure they're perfect without changing too much as I love the way different people come across when they're writing. I do read through every article completely so I can spot anything that does need to be fixed and then when it's good, I go ahead and approve it.
What part of this job "turns you on" — that gets you excited and passionate?
I love editing in itself, checking the grammar, and reading a lot of what the other writers are writing about. I've actually learned quite a bit about a variety of topics through editing, which I love. I've always loved editing and helping others improve their writing.
Most of our reviewers/editors started with us as one of our writers (and many continue to write as well as edit/review content).How would you say being able to work as one of our writers has helped you to gain experience and deepen your skills as a writer?
One of the biggest things I've learned is how to think about creative ways to write about the keywords. It definitely pushes me to be more creative, even though it all needs to be factual since I need to come up with unique ideas for each article on a certain topic. Just writing the articles is more practice as well, which helps me do better over time.
In the old days, writing online content was much easier. Just about any old thing would work — but in today's world, the bar is set much higher for writers. What do you see are the challenges facing content producers today?
As with the above – creativity. When there need to be 10 articles on air conditioners, you can't just write the same thing 10 times. You've got to think of unique and interesting content, which isn't always easy to do. The articles also have to be very well written and interesting to get people to actually read them. It's hard to really capture a reader's interest, especially with people wanting to hurry and get to the next thing they're doing.
Kim, what advice would you give someone who was thinking of writing online content? Where should they start? How should they begin? What are they going to need to bring to the table, so-to-speak?
Start by writing. Write as much as possible, even things no one might ever see, just for practice.
Read everything out loud before turning anything in, since it might sound funny when you say it out loud even though it looks good on paper.
When you're writing the first few articles for us or anyone else, be sure to walk away from the work for a while and read it again later. When you do, you'll see what doesn't make sense or find errors to be fixed and it will help create a much better article. And always make sure the article is the best it can be before turning it in.
Do you do any other work as a freelancer — do you have your own website or personal blog where you share your writing and connect with the public?
I'm working on creating a blog, but don't really have anything up and going yet. Just brainstorming ideas and learning more before I get started.
Thanks Kim for sharing with us. To take advantage of our expert writing services (always U.S. based) login here: Articlez.com.
Articlez.com Blog – Writer Spotlight: Amy F.